Do the WTC Seismic Data Point to Controlled Demolition?

AE911Truth Publishes FAQ on Often-Overlooked Evidence

In conjunction with last week's launch of our new website, AE911Truth published a new "Frequently Asked Question" on the seismic data recorded during the events at the World Trade Center on September 11, 2001.

We invite you to read the FAQ, which offers a simple overview of the more-than-decade-long debate among 9/11 researchers concerning this topic. 

Our conclusion, based on several articles cited in the FAQ, is that the seismic data do provide corroborating evidence of explosions both before and during the collapse of all three WTC towers — and of explosions even before the plane impacts into the Twin Towers.

We encourage researchers and activists to familiarize themselves with this less-understood area of evidence. Even by itself, it constitutes virtually indisputable proof that explosives were used in the destruction of the World Trade Center.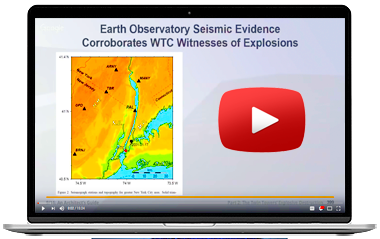 Thank You! — Support Still Needed



A big thank you to everyone who has donated since the launch of our new website. So far we've raised $2,500 of our $10,000 goal, which is the cost associated with creating the new site. Please chip in if you like the site and believe it will be an effective platform for our future efforts!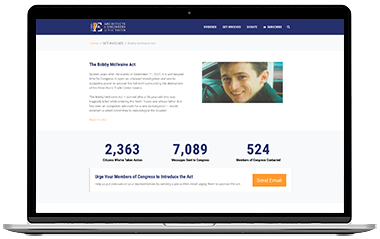 9/ll FATHER SEEKS JUSTICE — SHARE THE VIDEO
URGE YOUR MEMBERS OF CONGRESS TO INTRODUCE THE ACT

Sixteen years after the events of September 11, 2001, it is well beyond time for Congress to open an unbiased investigation and use its subpoena power to uncover the full truth surrounding the destruction of the three World Trade Center towers.
The Bobby McIlvaine Act — named after a 26-year-old who was tragically killed while entering the North Tower and whose father Bob has been an outspoken advocate for a new investigation — would establish a select committee to reinvestigate the disaster.
Share the video: YouTube and Facebook

Subscribe for News and Updates. Your email is confidential to us and will not be misused.
Learn more >
AE911Truth is a 501(c)3 educational organization. Donations are tax deductible per codes and regulations.
Learn more >

If you prefer not to receive communications from AE911Truth, unsubscribe from any future mailings by
clicking here.
© 2018 AE911truth.org All rights reserved. 2342 Shattuck Avenue, Suite 189, Berkeley, CA 94704.