Lawyers and Victims' Families File Petition for Federal Grand Jury Investigation

Federal Statute Requires Evidence to Be Presented to Grand Jury
Yesterday morning, attorneys from the Lawyers' Committee for 9/11 Inquiry, together with more than a dozen family members of 9/11 victims, filed a petition with the interim U.S. Attorney for the Southern District of New York, Geoffrey S. Berman, demanding that he present evidence of unprosecuted federal crimes at the World Trade Center on September 11, 2001, to a special grand jury.

According to the 52-page petition, which is accompanied by 57 exhibits, federal statute requires the U.S. Department of Justice to relay citizen reports of federal crimes to a special grand jury. The unprosecuted crime alleged to have taken place on 9/11 is the bombing of a place of public use or a government facility — as prohibited under the federal bombing statute or 18 U.S.C. § 2332f — as well as a conspiracy to commit, or the aiding and abetting of, said offense.

The petition states, "The Lawyers' Committee has reviewed the relevant available evidence . . . and has reached a consensus that there is not just substantial or persuasive evidence of yet-to-be-prosecuted crimes related to the use of pre-planted explosives and/or incendiaries . . . on 9/11, but there is actually 

conclusive

 evidence that such federal crimes were committed."

A federal grand jury has broad powers to investigate the alleged crimes and to return an indictment for signature and prosecution by the U.S. Attorney. The petition notes, "If any crime ever warranted a full special grand jury inquiry, the mass murder of thousands on our nation's soil on 9/11 clearly does."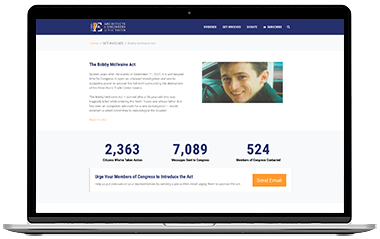 9/ll FATHER SEEKS JUSTICE — SHARE THE VIDEO
URGE YOUR MEMBERS OF CONGRESS TO INTRODUCE THE ACT

Sixteen years after the events of September 11, 2001, it is well beyond time for Congress to open an unbiased investigation and use its subpoena power to uncover the full truth surrounding the destruction of the three World Trade Center towers.
The Bobby McIlvaine Act — named after a 26-year-old who was tragically killed while entering the North Tower and whose father Bob has been an outspoken advocate for a new investigation — would establish a select committee to reinvestigate the disaster.
Share the video: YouTube and Facebook

AE911Truth is a 501(c)3 educational organization. Donations are tax deductible per codes and regulations.
Learn more >

If you prefer not to receive communications from AE911Truth, unsubscribe from any future mailings by
clicking here.
© 2018 AE911truth.org All rights reserved. 2342 Shattuck Avenue, Suite 189, Berkeley, CA 94704.