Richard Gage to Promote Bobby McIlvaine Act
to Thousands at United We Stand
 Free Event Features Eclectic Lineup of Speakers and Musicians
Join us less than two weeks from now as Richard Gage, AIA, speaks about the Bobby McIlvaine Act and the World Trade Center evidence to some 2,000 anticipated attendees at the annual United We Stand festival, hosted by the Free and Equal Elections Foundation.

Gage will be there alongside other activists who've contributed significantly to 9/11 Truth — including Luke Rudkowski of We Are Change and Peter Joseph, the creator of the Zeitgeist film series — as well as an eclectic lineup of speakers and musicians.

Tickets are FREE and donations will benefit victims of Hurricane Harvey. Can't make the trek to College Station, Texas? Look for livestreaming of the festival on the United We Stand Facebook page.

When: Sunday, April 29th, 2 PM to 6 PM CDT
Doors open at 1 PM
Where: Texas A&M's Reed Arena
730 Olsen Blvd., College Station, TX 77843

Learn more about the event from Andy Steele's recent interview with Gage and Christina Tobin, the founder of the Free and Equal Elections Foundation, on 9/11 Free Fall.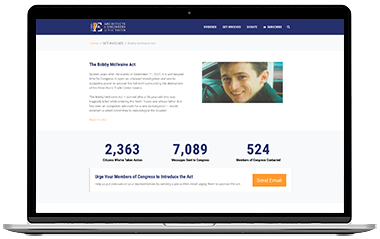 9/ll FATHER SEEKS JUSTICE — SHARE THE VIDEO
URGE YOUR MEMBERS OF CONGRESS TO INTRODUCE THE ACT

Sixteen years after the events of September 11, 2001, it is well beyond time for Congress to open an unbiased investigation and use its subpoena power to uncover the full truth surrounding the destruction of the three World Trade Center towers.
The Bobby McIlvaine Act — named after a 26-year-old who was tragically killed while entering the North Tower and whose father Bob has been an outspoken advocate for a new investigation — would establish a select committee to reinvestigate the disaster.
Share the video: YouTube and Facebook

AE911Truth is a 501(c)3 educational organization. Donations are tax deductible per codes and regulations.
Learn more >

If you prefer not to receive communications from AE911Truth, unsubscribe from any future mailings by
clicking here.
© 2018 AE911truth.org All rights reserved. 2342 Shattuck Avenue, Suite 189, Berkeley, CA 94704.