Searching for that One Congressperson
May 11, 2018: A Nationwide Call-In Day for the Bobby McIlvaine Act
On May 11, 2018 — two weeks from today — AE911Truth is organizing a Nationwide Call-In Day to remind every member of the U.S. House of Representatives about the Bobby McIlvaine World Trade Center Investigation Act.

To be clear, we are under no illusion about the Bobby McIlvaine Act being passed anytime soon. Rather, our goal for now is to find just one member of Congress — or perhaps of handful of them — brave enough to introduce the Act when the time is right.

As we saw from the story of Charlotte Councilwoman LaWana Mayfield, a single comment by an elected official — a local one at that — is enough to set off a nationwide firestorm when it comes to 9/11 Truth.


The Mayfield controversy was but a small fraction of the conversation that will take place across the country when a member of Congress musters the courage to introduce legislation for a new World Trade Center investigation. To be sure, many bills are introduced every year and never receive any public attention. But it's difficult to imagine this one going unnoticed.

As soon as the bill is introduced, opposition from the media and the political establishment will be fierce. But if the sponsors of the Act are well-prepared and backed by family members, survivors, and technical experts, the resulting discourse will be an educational breakthrough for millions of Americans. And over time, support for a new investigation will grow.

To achieve our goal of reaching every member of the House of Representatives with multiple phone calls — hopefully inspiring at least one of them to take a stand — we need at least 3,000 activists to participate in this effort. This includes you!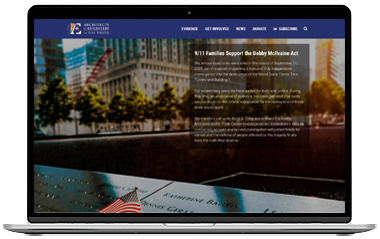 9/ll FATHER SEEKS JUSTICE — SHARE THE VIDEO
URGE YOUR MEMBERS OF CONGRESS TO INTRODUCE THE ACT

Sixteen years after the events of September 11, 2001, it is well beyond time for Congress to open an unbiased investigation and use its subpoena power to uncover the full truth surrounding the destruction of the three World Trade Center towers.
The Bobby McIlvaine Act — named after a 26-year-old who was tragically killed while entering the North Tower and whose father Bob has been an outspoken advocate for a new investigation — would establish a select committee to reinvestigate the disaster.
Share the video: YouTube and Facebook

AE911Truth is a 501(c)3 educational organization. Donations are tax deductible per codes and regulations. Learn more

If you prefer not to receive communications from AE911Truth, unsubscribe from any future mailings by
clicking here.
© 2018 AE911truth.org All rights reserved. 2342 Shattuck Avenue, Suite 189, Berkeley, CA 94704.