AE911Truth Heads to Europe — 
"9/11 Justice: Every Nation, Every Citizen"
Gage to Visit Utrecht, Brussels, London, Zurich, Bristol May 13 – 17 
Six days from now, Richard Gage, AIA, embarks on a five-day, five-city tour through Europe highlighting the global demand for 9/11 Justice.

9/11 Justice: Every Nation, Every Citizen kicks off in the Netherlands, where comedian George Van Houts has been packing theaters with his popular comedy show centered on 9/11 Truth.  

Mr. Van Houts has invited AE911Truth to join him and a panel of other 9/11 Truth activists for a conference before his show in Utrecht on the evening of Sunday, May 13, 2018. We're thrilled to be sharing the stage with Mr. Van Houts on what promises to be an illuminating day of humor and truth.

From there it is off to Brussels, London, Zurich, and Bristol, where Gage will continue to present the evidence of controlled demolition of the World Trade Center and update the world about our ongoing legislative and research efforts.

Gage will be joined on his first three stops by Barbara Honegger, who will discuss the groundbreaking petition for a federal grand jury investigation that was recently filed with the U.S. Attorney for the Southern District of New York by the Lawyers' Committee for 9/11 Inquiry.

At the May 15th event in London, Gage will also be joined by British 9/11 family member Matt Campbell and engineer David Llewelyn, who is chair of the Scandinavian branch of the Institution of Mechanical Engineers.

For more information about the tour, visit our Events calendar. To those of you who can attend, we'll see you there!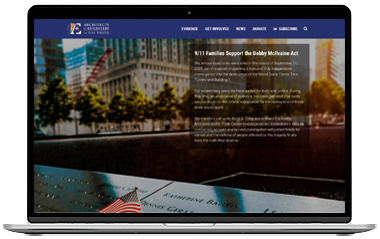 9/ll FATHER SEEKS JUSTICE — SHARE THE VIDEO
URGE YOUR MEMBERS OF CONGRESS TO INTRODUCE THE ACT

Sixteen years after the events of September 11, 2001, it is well beyond time for Congress to open an unbiased investigation and use its subpoena power to uncover the full truth surrounding the destruction of the three World Trade Center towers.
The Bobby McIlvaine Act — named after a 26-year-old who was tragically killed while entering the North Tower and whose father Bob has been an outspoken advocate for a new investigation — would establish a select committee to reinvestigate the disaster.
Share the video: YouTube and Facebook

AE911Truth is a 501(c)3 educational organization. Donations are tax deductible per codes and regulations.
Learn more

If you prefer not to receive communications from AE911Truth, unsubscribe from any future mailings by
clicking here.
© 2018 AE911truth.org All rights reserved. 2342 Shattuck Avenue, Suite 189, Berkeley, CA 94704.