Finish the WTC 7 Study, Sue NIST, Get Justice:
It Happens with Your Support
Anonymous donor to match ALL new memberships through June 1st!
When the much-anticipated WTC 7 study at the University of Alaska Fairbanks is finally released later this year, it will trigger a tsunami of truth that will take us into the next phase of our mission.

We will transmit the study's finding that fire did not bring down WTC 7 to millions of people. Dr. Leroy Hulsey will publish papers in respected engineering journals. Our growing team of three dozen engineers will give hundreds of presentations all over the world. 

But, perhaps most important of all, we will use the study as the basis of a formal "Request for Correction" to NIST's false WTC 7 report. When, in all likelihood, NIST fails to respond adequately, we will bring the agency to court under the Data Quality Act, seeking a judgment that requires NIST to correct its report.

By that time, our goal is to have gained so much momentum and resources that the lawsuit against NIST will be just one of the many legal actions and legislative campaigns we are able to carry out. And our lawsuits will be aimed at more than just NIST.

In order to reach that point, we must be at full strength throughout the next year. That means bringing on board 500 new sustaining members during the final week of our membership drive, which ends next Friday.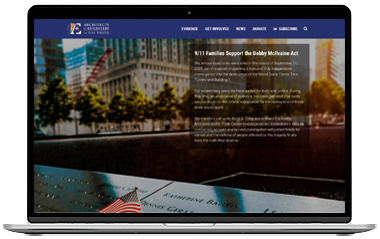 9/ll FATHER SEEKS JUSTICE — SHARE THE VIDEO
URGE YOUR MEMBERS OF CONGRESS TO INTRODUCE THE ACT

Sixteen years after the events of September 11, 2001, it is well beyond time for Congress to open an unbiased investigation and use its subpoena power to uncover the full truth surrounding the destruction of the three World Trade Center towers.
The Bobby McIlvaine Act — named after a 26-year-old who was tragically killed while entering the North Tower and whose father Bob has been an outspoken advocate for a new investigation — would establish a select committee to reinvestigate the disaster.
Share the video: YouTube and Facebook

AE911Truth is a 501(c)3 educational organization. Donations are tax deductible per codes and regulations. Learn more >

If you prefer not to receive communications from AE911Truth, unsubscribe from any future mailings by
clicking here.
© 2018 AE911truth.org All rights reserved. 2342 Shattuck Avenue, Suite 189, Berkeley, CA 94704.