Mark Crispin Miller, Bob McIlvaine, Playwright Richard Squires Discuss 'A Blanket of Dust' following Next Wednesday's Show at the Flea

Performances of this 'much needed' play run through June 30th
A Blanket of Dust, a new play about a 9/11 widow's pursuit of justice, opened on June 12th and runs until June 30th at the famous Flea Theater in New York City. Performances are at 7:00 PM every day of the week (except Sunday), in addition to Saturday 2:00 PM matinees.

We're pleased to announce that the show on Wednesday, June 27, will be followed by a very special event: a Q&A moderated by renowned media critic Mark Crispin Miller, with playwright Richard Squires, 9/11 family member Bob McIlvaine, and architect Bill Brinnier. Brinnier's best friend, Frank DeMartini, was the World Trade Center construction manager who died while rescuing dozens of occupants trapped in the upper floors of the North Tower on 9/11.

We encourage everyone who can make it to the Big Apple to come see this important play — and, if you attend on the 27th, to stay for the Q&A. We realize the majority of you live too far away to be there, so we're filming the Q&A and will release the video shortly thereafter. In the meantime, you can urge your friends who are nearby to come enjoy this "thought-provoking," "masterful," "much needed" production!

— Anthony J. Piccione, Onstage Blog

— Matt Kiesling, TheEasy.com

— Walter Thinnes, Walter Thinnes Blog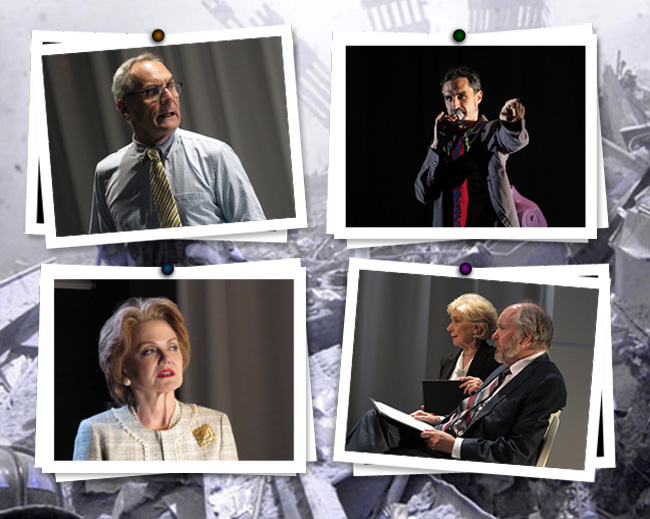 Without you, we wouldn't exist.
Newsletter archive | Subscribe for News | About AE911Truth | AE911Truth is a 501(c)3 educational organization. Donations are tax deductible per codes and regulations. Learn more

If you prefer not to receive communications from AE911Truth, unsubscribe from any future mailings by
clicking here.
© 2018 AE911truth.org All rights reserved. 2342 Shattuck Avenue, Suite 189, Berkeley, CA 94704.