We Need Every Boston Supporter to
Call Lynch, Capuano, or Clark This Week!
They Supported 28 Pages, JASTA — Tell Them to Take the Next Step
In the months leading up to this year's September 11th Anniversary, we are conducting a campaign of targeted outreach to specific members of Congress who we believe are most likely to introduce the Bobby McIlvaine Act.


Today, we are asking you, as a resident of the Boston area, to call your representative and urge him or her to introduce this bill.

It just so happens that three out of the five members of Congress who represent the Boston area were sponsors of House Resolution 14, which called upon President Obama to release the 28 pages that were redacted from the Joint Congressional Inquiry into 9/11. Rep. Stephen Lynch was a lead sponsor of the resolution, Rep. Michael Capuano was an early co-sponsor, and Rep. Katherine Clark joined as a sponsor a year later. Lynch and Capuano also went on to sponsor the Justice Against Sponsors of Terrorism Act, otherwise known as JASTA.

On May 1, 2018, Boston area architect Henry MacLean and 11 other local architect/engineer petition signers, on behalf of 90 Boston A/E petition signers, sent a letter to Lynch, Capuano, and Clark urging their endorsement of the Bobby McIlvaine Act.

Now it's time for all of us to follow their lead and let Boston's congressional delegation know there is broad constituent support for a new investigation.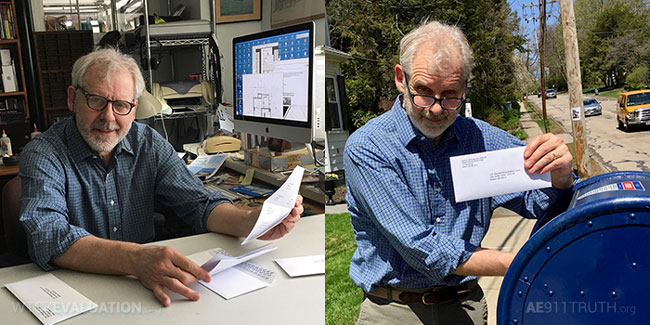 Please take five minutes to call your representative's Washington, D.C., office this week. Only by filling their phone lines with dozens of constituent phone calls can we persuade them to make good on their promise to the 9/11 families and introduce the Bobby McIlvaine Act. We need you now!

Don't know who your representative is? Find out here.

Rep. Stephen Lynch's Office Number: (202) 225-8273
Rep. Mike Capuano's Office Number: (202) 225-5111
Rep. Katherine Clark's Office Number: (202) 225-2836
Rep. Seth Moulton's Office Number: (202) 225-8020
Rep. Joseph Kennedy III's Office Number: (202) 225-5931
Note: Moulton and Kennedy were not sponsors of H.Res.14 or JASTA, but that doesn't mean we should pass them up. Please make the call!

Introduction: Give the staff member your name and city of residence.

Ask: Explain that you're calling your representative to introduce the Bobby McIlvaine Act. It is draft legislation — named after a 9/11 victim whose father is an outspoken advocate — that will establish a select committee to reinvestigate the World Trade Center destruction. If applicable, commend their past support for the release of the 28 pages and JASTA, and urge them to take the next step.

URL: Ask the staff to read the Bobby McIlvaine Act and watch the Bobby McIlvaine video at AE911Truth.org/Justice — and encourage them to contact AE911Truth if they have any questions.

Tracking: So that we can track how many supporters called in, please let us know you called your representative by simply replying to this email.

Thanks for your grassroots support of this historic campaign. Your action might just make the difference!

Without you, we wouldn't exist.
Newsletter archive | Subscribe for News | About AE911Truth | AE911Truth is a 501(c)3 educational organization. Donations are tax deductible per codes and regulations. Learn more

If you prefer not to receive communications from AE911Truth, unsubscribe from any future mailings by
clicking here.
© 2018 AE911truth.org All rights reserved. 2342 Shattuck Avenue, Suite 189, Berkeley, CA 94704.