Our Sept. 2018 Bobby McIlvaine Webpage:
Your Go-To for Taking Action on 9/11
The New Bobby McIlvaine Video, '9/11 Justice for All,' and More!
The 9/11 anniversary is less than one week away! In preparation for the wave of activism we're working to generate, we've re-tooled our Bobby McIlvaine Act webpage to serve as a platform for the most essential actions we're asking you — and the 200,000 people who will visit our website around the anniversary — to take.

We invite you to visit the page today and get acquainted with the two actions we're spearheading on September 10th and 11th: (1) Sending the Bobby McIlvaine video to your members of Congress with a brand new pre-written letter, and (2) sharing the video on Facebook.

In the meantime, we also ask you to donate toward our September 11th paid Facebooks ads. Since September 1st we've raised almost $2,000 of our $10,000 goal, which translates to nearly one million views funded. If we meet our $10,000 goal, it will mean we can afford a mindboggling five million views in one day. Thank you to everyone who has donated so far!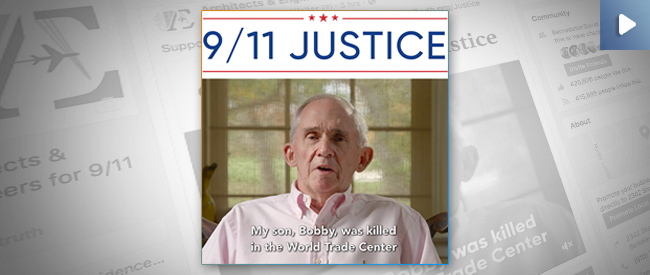 Lastly, the retooled Bobby McIlvaine page includes our itinerary for the "9/11 Justice for All" events along with your livestream headquarters for the 2:00 PM rally at the Capitol and the 6:30 PM gathering at Busboys and Poets.

For  those of you who can come to the evening event in person, we highly recommend you purchase tickets in advance on Eventbrite, where they are $10 less than at the door. Plus, the venue holds only 100, and we don't want to turn you away!

Thank you for being engaged this September 11th. It's the time of year when our collective action goes the furthest!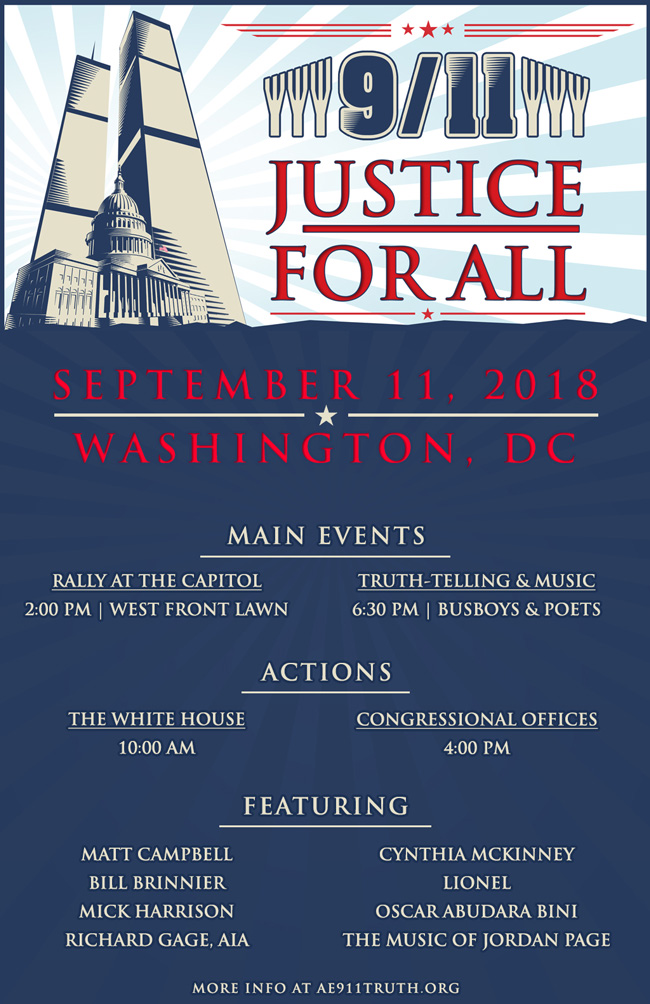 Without you, we wouldn't exist.
Newsletter archive | Subscribe for News | About AE911Truth | AE911Truth is a 501(c)3 educational organization. Donations are tax deductible per codes and regulations. Learn more

If you prefer not to receive communications from AE911Truth, unsubscribe from any future mailings by
clicking here.
© 2018 AE911truth.org All rights reserved. 2342 Shattuck Avenue, Suite 189, Berkeley, CA 94704.