9/11: The Collapse of Conscience —
Soho Art Exhibit Closes Saturday, October 13
Panel: "Exploring the Art of Mass Deception" on Oct. 13 at 5:00 PM
To all of our friends in the tri-state area:

On September 11 of this year, the Ronald Feldman Gallery in the Soho district of New York City launched a bold multimedia exhibit by renowned conceptual artist Fredric Riskin titled "9/11: The Collapse of Conscience."

Through this immersive multimedia experience, Riskin explores the 9/11 trauma and examines our individual, collective, and governmental response to the catastrophe. Both somber and dramatic, the installation presents powerful iconic imagery — including the collapse of World Trade Center Building 7 — in a variety of media, such as print, canvas, video, and sound.

The month-long exhibit will close on Saturday, October 13, with a special panel discussion, "Exploring the Art of Mass Deception," at 5:00 PM. 

Organized and moderated by 9/11 Truth pioneer Byron Belitsos, the event will feature distinguished panelists Fredric Riskin (the artist), media critic Mark Crispin Miller, playwright Richard Squires (who recently produced "A Blanket of Dust" at the Flea Theater), and architect Bill Brinnier, one of 3,000 signatories to AE911Truth's petition. Together they will comment on the artist's work and message and share their own insights into the deception of 9/11.

If you can't make it to the panel discussion, be sure stop by and see the art between the hours of 10:00 AM and 6:00 PM before the exhibit closes on Saturday. We hope to see you there!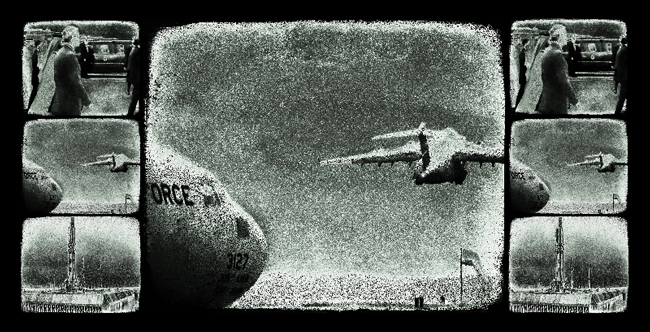 Exploring the Art of Mass Deception
5:00 PM on Saturday, October 13
The Ronald Feldman Gallery
31 Mercer Street
New York, NY 10013
FeldmanGallery.com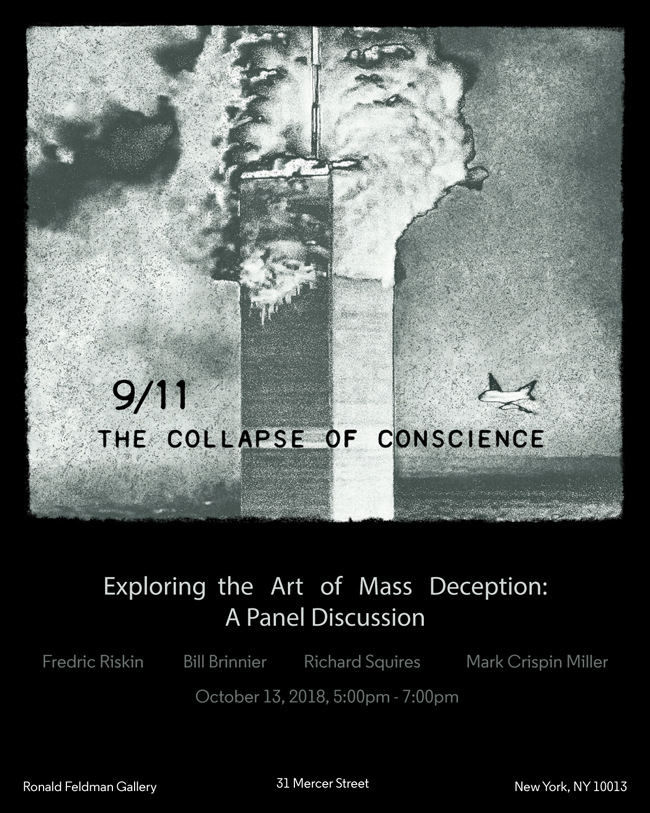 AE911Truth is a 501(c)3 educational organization. Donations are tax deductible per codes and regulations.
Learn more

If you prefer not to receive communications from AE911Truth, unsubscribe from any future mailings by
clicking here.
© 2018 AE911truth.org All rights reserved. 2342 Shattuck Avenue, Suite 189, Berkeley, CA 94704.