Parents of 9/11 Victims Take on FBI
in Groundbreaking Lawsuit
An Interview with Bob McIlvaine and Barbara Krukowsi-Rastelli
On this week's episode of 9/11 Free Fall, host Andy Steele is joined by 9/11 family members Bob McIlvaine and Barbara Krukowski-Rastelli, who discuss their lawsuit against the FBI over the Bureau's failure to include key evidence that it knew of in its 2015 report to Congress.

The two parents, together with the Lawyers' Committee for 9/11 Inquiry and AE911Truth, aim to compel the FBI to reconstitute its 9/11 Review Commission and issue a new report that assesses all of the evidence the FBI is accused of omitting — including evidence of the World Trade Center's explosive demolition. Listen now on AE911Truth.org >
Donate to Bob and Barbara's Lawsuit
Nearly 1,000 of you have helped raise almost $50,000 for this groundbreaking lawsuit over the past 12 days, leaving us just $10,000 shy of the $60,000 needed for the early phases of litigation.
If you haven't chipped in yet, now is the time when your gift can make all the difference in allowing this historic legal action to go forward. On behalf of Bob, Barbara, and the Lawyers' Committee, we are deeply grateful for your generosity and your determination to see truth prevail.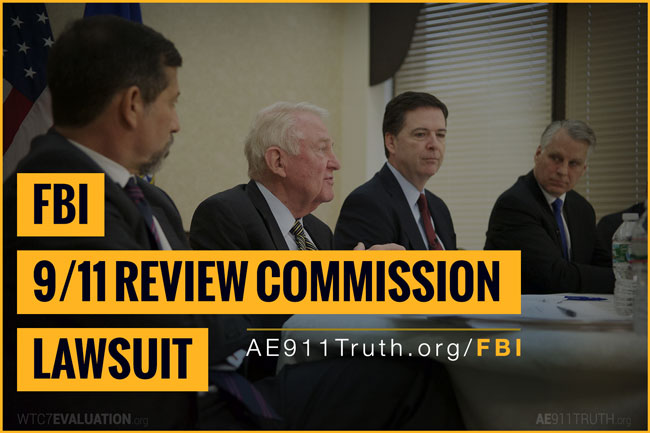 If you prefer not to receive communications from AE911Truth, unsubscribe from any future mailings by
clicking here.
© 2019 AE911truth.org All rights reserved. 2342 Shattuck Avenue, Suite 189, Berkeley, CA 94704.