Tomorrow We End the Conspiracy of Silence at the
ASCE Structures Congress — Thanks to You

Thank you for funding our engineers' trip to this ASCE conference!

Tomorrow, we send a team of four civil engineers to the annual conference of the ASCE's Structural Engineering Institute — an effort made possible by more than 200 of you who answered our call and raised $6,000 in less than 24 hours!

Our team will network and distribute Project Due Diligence brochures to all 1,000 conference attendees throughout the day. Then they will hold a reception and presentation at the hotel next door, where we hope to receive at least two dozen engineers and educate them in depth about the fraud of the official WTC reports.

I want to thank you from the bottom of my heart for enabling us to do this kind of outreach, which is key to ending the "conspiracy of silence" that has pervaded our professional architecture and engineering institutions since the release of the official WTC reports more than a decade ago.

For those of you who wish to support future outreach efforts like this one, you can still donate $20 or more and receive five Project Due Diligence brochures to give to friends and colleagues whom you care to inform about the work of AE911Truth. So far, 154 supporters have donated $20 or more and will receive 770 brochures in total to pass out, putting us three-quarters of the way to our goal of having 200 supporters distribute 1,000 brochures.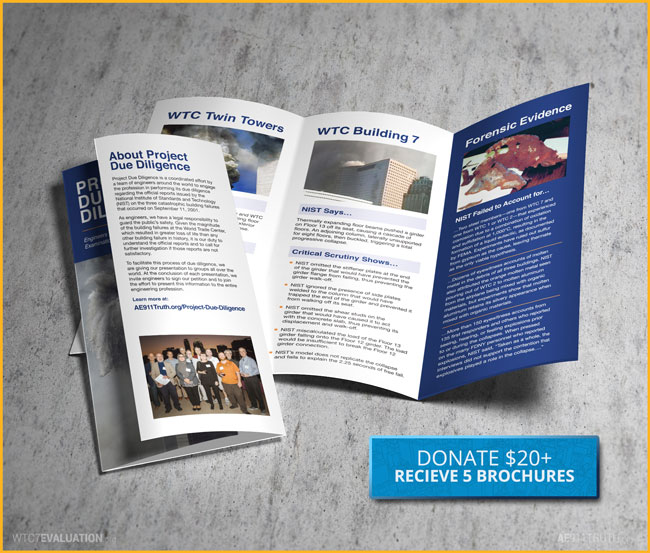 On behalf of our more than 30 Project Due Diligence volunteers, I thank you for getting behind this ongoing project of galvanizing the engineering profession to support of a new WTC investigation. We look forward to reporting back to you after the conference!
Richard Gage, AIA
Architects & Engineers for 9/11 Truth


If you prefer not to receive communications from AE911Truth, unsubscribe from any future mailings by
clicking here.
© 2019 AE911truth.org All rights reserved. 2342 Shattuck Avenue, Suite 189, Berkeley, CA 94704.