You Can Ensure Breakthrough Building 7 Study Reaches Engineers Everywhere
Free gift with minimum donation of $25 by August 31!

Dear Supporter,

I've got such important news that I wanted to make sure you didn't miss the message I sent earlier this week. In less than two weeks, the breakthrough Building 7 Study by Dr. Leroy Hulsey will be released, proving definitively that fire did not cause the destruction of World Trade Center Building 7 on 9/11.

I urgently need your help to raise $50,000 by August 31st to spread the word about this study far and wide. Fortunately, a determined donor has stepped forward with a generous challenge gift of $5,000. That means this donor is challenging the community — including you — to equal his donation by August 31st so that this report can be shared as widely as possible.

Will you donate now to make sure this report is spread far and wide?

When you give today, your gift will be used immediately to launch a multi-channel public awareness campaign about this groundbreaking study. For example, for just $25 you can ensure that ten engineers receive our large-format postcard about the report (plus you'll receive one, too!), helping us reach 20,000 engineers across the country.

Not only that, but your gift will be used to organize presentations in Fairbanks, Berkeley, and New York,  hold a major news conference in Washington D.C. with the Franklin Square fire commissioners, produce a powerful short video for social media, commission a new YouGov survey, and more.

Will you give generously today to make sure we do not miss this incredible opportunity to bring this game-changing study about Building 7's destruction to the public's attention?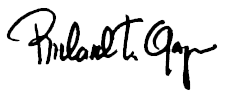 Richard Gage, AIA

PS: There are only two weeks left to have your gift DOUBLED and spread the word about this 9/11 breakthrough study — please give by August 31st!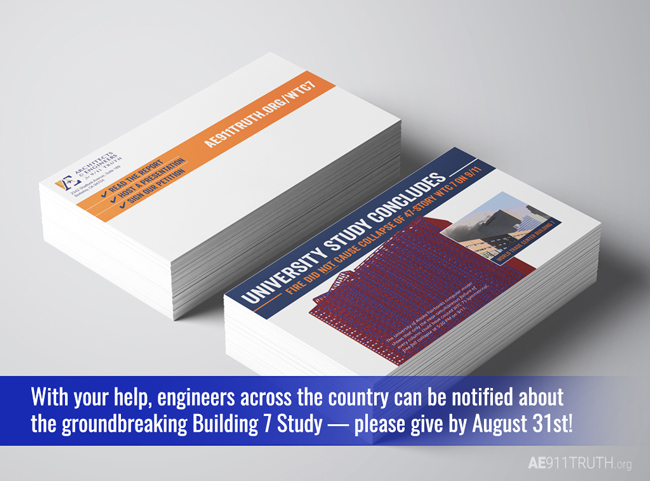 If you prefer not to receive communications from AE911Truth, unsubscribe from any future mailings by
clicking here.
© 2019 AE911truth.org All rights reserved. 2342 Shattuck Avenue, Suite 189, Berkeley, CA 94704.