September 11th News Conference at 10:00 EDT

First Responders Urge Congress to Reopen 9/11 Investigation

We invite you to tune in at 10 AM Eastern on September 11, 2019, when Commissioner Christopher Gioia of the Franklin Square and Munson Fire District in New York will announce the launch of the "Justice for 9/11 Heroes" campaign at a news conference to be held at the National Press Club.

Mr. Gioia will be joined by Bob and Helen McIlvaine, whose son Bobby was killed at the World Trade Center, as well as David Meiswinkle of the Lawyers' Committee for 9/11 Inquiry and architect Richard Gage of AE911Truth.

After the news conference, we encourage you to take 15 minutes and urge key members of Congress to read the University of Alaska Fairbanks WTC 7 report.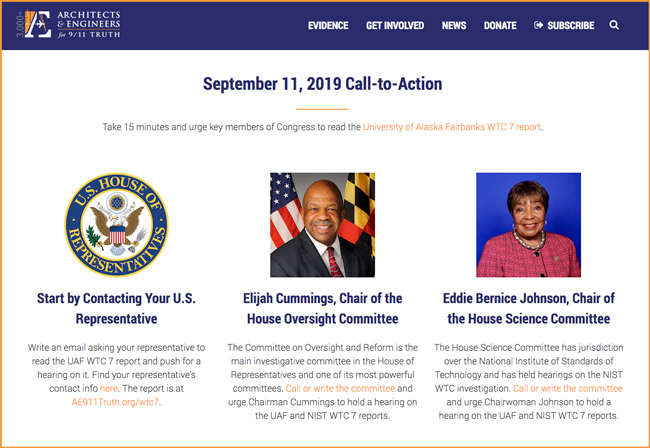 If you prefer not to receive communications from AE911Truth, unsubscribe from any future mailings by
clicking here.
© 2019 AE911truth.org All rights reserved. 2342 Shattuck Avenue, Suite 189, Berkeley, CA 94704.