Dear Supporter,

With this year's 9/11 anniversary now behind us, I want to take a moment to thank you.

Because of your generosity, this was the most productive 9/11 anniversary of AE911Truth's 13-year existence. Thanks to you, there has never been a more promising path forward to ushering in a real investigation of the World Trade Center's destruction.

Here are some of the accomplishments from this year's historic 9/11 anniversary that your generosity has made possible:

With the release of the UAF WTC 7 study this past September and the emergence of our new allies in the first responder community, the path toward achieving our goal of a new 9/11 investigation is becoming clearer by the day.

On behalf of AE911Truth as well as the many 9/11 family members and first responders with whom we have partnered in the pursuit of truth and justice, I thank you for making this our most impactful 9/11 anniversary ever.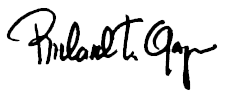 Richard Gage, AIA
Founder and CEO
PS: Your commitment to truth and justice inspires me to keep going. Thank you for all that you have done to bring our mutual cause closer to victory!


If you prefer not to receive communications from AE911Truth, unsubscribe from any future mailings by
clicking here.
© 2019 AE911truth.org All rights reserved. 2342 Shattuck Avenue, Suite 189, Berkeley, CA 94704.